6216 Gateway Blvd. East, El Paso, TX 79905
What Causes Rollover Car Accidents in the El Paso Area?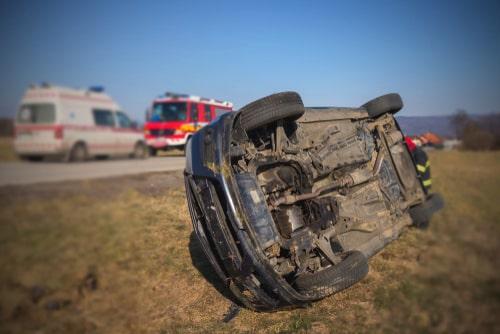 Rollover car accidents are some of the most dangerous and deadly forms of car crashes. In the El Paso area, rollover accidents are quite common and are often considered among the most dangerous types of car accidents. If you were injured in a rollover car accident, you may be at a loss for what you should do. Consider contacting a personal injury attorney, as you may be eligible for compensation. Personal injury attorneys are well-equipped to examine the particulars of your case and will also be highly beneficial when it comes time to speak with the insurance company.
Everything You Need to Know About Rollover Car Accidents
Here are the most common causes of rollover accidents, including:
Vehicle design – The design and type of vehicle often play a significant role in rollover car accidents. Vehicles such as SUVs, pickup trucks, and tall vehicles have a higher center of gravity and are more prone to rollover accidents than lower vehicles. In such cars, sharp steering maneuvers, overcorrection, or sudden turns can easily cause a vehicle with a high center of gravity to roll over. El Paso is no stranger to cars with a higher center of gravity, such as large pickup trucks or Jeep-style vehicles. Owners of such cars must be especially mindful of how they drive.
Speeding – A significant contributor to rollover accidents, speeding makes maintaining control over a vehicle challenging, and the likelihood of a rollover accident increases. Designated speed limits are set for a reason, and obeying such signs can help decrease the chance of a rollover accident.
Overcorrecting – This typically happens when a driver tries to swerve or avoid a pothole or obstacle at high speeds. This move can destabilize the vehicle and cause it to roll over. In these scenarios, it is best not to make sudden or quick turns, especially in cars with a high center of gravity.
Tire blowouts – When a car travels at high speed and experiences a tire blowout, rollover accidents can occur, resulting in deadly consequences.
Road conditions – The El Paso area is known for its year-round sunshine and proximity to the Chihuahuan Desert. As a result, the roads in the area can become very sandy. Combining sandy roads with speeding and making dangerous vehicle maneuvers can easily result in rollover accidents.
Contact an El Paso County Car Accident Attorney
For experienced legal counsel handling your personal injury claim, look no further than the judicious El Paso car accident lawyer with James Kennedy, P.L.L.C.. Call 915-544-5200 for a free consultation.
Source - https://www.progressive.com/answers/what-is-rollover-car-accident/