6216 Gateway Blvd. East, El Paso, TX 79905
Was Your Accident Caused by an Intoxicated Truck Driver?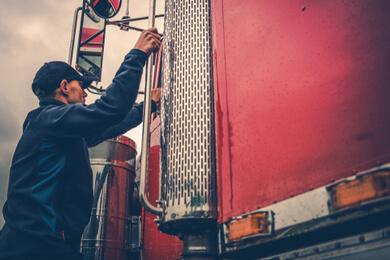 Few would argue that being a truck driver is a challenging occupation. Truck drivers must contend with unpredictable sleep patterns, long hours, loneliness, and boredom. However, these challenges do not excuse drug or alcohol use behind the wheel. Any driver who drives under the influence of alcohol or drugs puts himself and other motorists in harm's way. However, semi-truck drivers create an even more dangerous situation when they drive under the influence.
Accidents involving large commercial trucks often result in severe and fatal injuries. If you or a loved one were hurt in a crash and you suspect that drug or alcohol use may have contributed to the wreck, contact a skilled truck accident injury attorney for help.
How Common is Drug Use Among Commercial Truckers?
Most truck drivers are responsible, skilled workers. Unfortunately, some truck drivers make the roads more dangerous by consuming illicit substances or drunk driving. One study showed that about 50 percent of truck drivers admitted to driving under the influence of alcohol and 30 percent confessed to using amphetamines. A U.S. study showed that over 12 percent of truck drivers tested for alcohol tested positive.
Federal Drug Testing Requirements for Commercial Truck Drivers
Companies that employ workers with a commercial driver's license must meet drug and alcohol testing requirements established by the Federal Motor Carrier Safety Administration (FMCSA and Department of Transportation (DOT). Unfortunately, some trucking companies do not comply with these regulations. Carriers may "look the other way" regarding drug or alcohol use behind the wheel because they simply cannot afford to replace a driver who uses drugs or alcohol. Some trucking companies also neglect drug and alcohol testing because of the cost or because they expect drivers to use illicit drugs in place of sleep.
Legal Options After a Truck Crash
If you were injured or a loved one was killed in a truck crash, and the driver was intoxicated, you may be entitled to monetary damages. You could recover compensation for medical expenses, including emergency medical care and ongoing medical needs like physical therapy. You could also be compensated for the lost income you suffered while recovering. If the accident resulted in permanent loss of function, you could be compensated for lost earning capacity. If your loved one died in a truck crash caused by an intoxicated driver, you may be able to hold the responsible party accountable and recover monetary damages for lost financial support, funeral and burial expenses, and more.
Contact a Van Horn Truck Crash Lawyer
If you or a loved one were involved in a truck crash, contact El Paso truck accident injury attorney James Kennedy for help. Call James Kennedy, P.L.L.C. at 915-544-5200 for a free consultation.
Sources:
https://www.fmcsa.dot.gov/regulations/drug-alcohol-testing/overview-drug-and-alcohol-rules
https://www.reuters.com/article/us-drug-truckdrivers/drug-use-high-among-commercial-truck-drivers-study-idUSBRE99O0T520131025