6216 Gateway Blvd. East, El Paso, TX 79905
Understanding the Causes of Rollover Accidents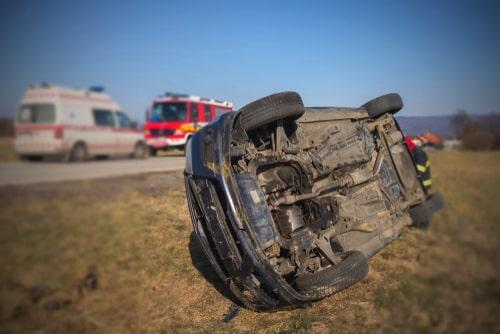 Rollover accidents are some of the most dangerous accidents on the road. These accidents often result in severe injuries and fatalities. Generally, rollover accidents are caused by a combination of factors. Remember, if you are injured in a rollover car accident, contact a personal injury attorney to pursue the compensation you may be entitled to.
Causes of Rollover Accidents
Here are some of the most common causes of rollover car accidents, including:
Speeding – One of the most common causes of rollover car accidents is speeding. When a vehicle travels at high speeds, it is more challenging to maintain control, especially during maneuvers such as sharp turns. This can cause the car to roll over, particularly if the driver overcorrects or loses control.
Driver error – In many cases, rollover car accidents are caused by driver error. This can include distracted driving, driving under the influence of drugs or alcohol, or ignoring the road.
Tire blowouts – A tire blowout can cause a vehicle to lose control, especially at high speeds. This can cause the car to violently rollover.
Vehicle design – Some vehicles are more prone to rollover accidents because of their design. Cars with a higher center of gravity, such as SUVs and pickup trucks, are more likely to roll over, especially if they are overloaded or the driver takes sharp turns at high speeds.
Road conditions – Poor road conditions can also contribute to rollover car accidents. This can include uneven pavement, gravel or debris on the road, or wet or icy conditions.
Negligence – In some cases, a rollover accident care is caused by the negligence of other drivers or parties. This can include reckless driving, failure to maintain a safe distance, or failure to maintain a vehicle properly.
Injuries Caused by Rollover Accidents
Rollover accidents can cause various serious injuries, such as traumatic brain injuries, spinal cord injuries, broken bones, internal injuries, lacerations, burns, and death. These injuries can cause long-term disabilities and require extensive medical treatment, including surgery, rehabilitation, and ongoing care. In addition, those involved in rollover car accidents may also experience emotional trauma and psychological distress, impacting their quality of life and ability to work. Therefore, it is essential for those injured in a rollover car accident to seek medical treatment and legal advice as soon as possible to ensure the protection of their rights and to pursue the compensation they may be entitled to.
Contact an El Paso County Personal Injury Attorney
For more information, contact the experienced Sierra Blanca personal injury lawyers at James Kennedy, P.L.L.C. for high-quality legal representation. Call 915-544-5200 for a free consultation.
Source - https://www.progressive.com/answers/what-is-rollover-car-accident/