6216 Gateway Blvd. East, El Paso, TX 79905
Truck Accident Injury Investigations in Texas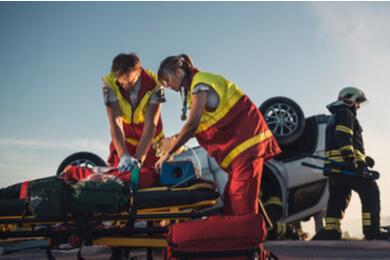 Car accidents involving 18-wheelers, flatbeds, semi-trucks, and other commercial trucks lead to severe and fatal injuries every year in the U.S. One out of every ten vehicles involved in a fatal traffic accident is a large truck. Unfortunately, the number of injuries and deaths resulting from truck collisions is increasing.
If you were injured or a loved one was killed in a wreck involving a tractor-trailer or other large truck, you should know that you may be able to hold the truck driver, trucking company, or another at-fault party accountable through a personal injury case. You may also be entitled to compensation for damages such as your medical bills, lost income, lost financial support from a deceased family member, and more. Building a strong case against a negligent trucker or trucking company starts with launching a thorough investigation into the circumstances of the crash and the at-fault party's role in causing the accident.
Evidence in a Truck Collison Injury Case
Truck accidents are often multifaceted. It is hard to know exactly how and why the accident occurred at first glance. A skilled truck crash injury lawyer can investigate the accident and obtain evidence to strengthen the claim against the at-fault party.
Evidence that may be used in a truck crash injury claim includes but is not limited to:
Crash data recorder information - Most large trucks are equipped with a crash data recorder or event data recorder that documents vehicle information such as speed, acceleration, brakes, and steering immediately before and during a crash. This information can be used to determine the actions that the driver took during the collision.
Testimony from expert witnesses – A skilled professional in the field of accident reconstruction, engineering, or data interpretation can evaluate the evidence and give his or her professional opinion about what happened during the accident. Credible expert witnesses carry significant weight in a truck crash injury case.
Electronic logbooks – Because sleepy driving is so dangerous, the Federal Motor Carrier Safety Administration (FMCSA) regulates how often truck drivers must stop and rest during long hauls. The truck's electronic logbook or electronic logging device can show evidence of FMCSA violations that may lead to fatigued driving or even falling asleep at the wheel.
Trucking company records – Sometimes, the fault for a truck accident lies with the trucking company or carrier. The carrier is responsible for ensuring that truck drivers have the proper qualifications to drive a commercial truck safely. Negligent hiring practices and other trucking company negligence may lead to preventable accidents.
Contact a Sierra Blanca Truck Wreck Lawyer
If you or a loved one were involved in a truck collision, contact the experienced El Paso injury attorneys at James Kennedy, P.L.L.C.. We can obtain evidence and launch a detailed investigation into the accident. Call 915-544-5200 today for a free consultation.
Sources:
https://injuryfacts.nsc.org/motor-vehicle/road-users/large-trucks/
https://www.nhtsa.gov/research-data/event-data-recorder