6216 Gateway Blvd. East, El Paso, TX 79905
Safety Violations May Be Crucial Evidence in Your Truck Accident Injury Claim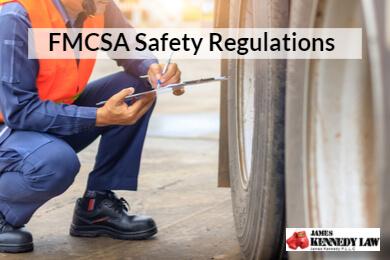 Numerous federal and state laws regulate safety in the trucking industry. Unfortunately, this does not prevent injury-causing and fatal truck crashes from occurring. If you or a loved one were involved in a truck collision, you may be able to seek justice through a civil claim against the liable party. Financial compensation may be available for medical bills, funeral and burial expenses, lost income, and other damages. Evidence of safety violations is often a crucial piece of evidence in truck accident injury claims.
FMCSA Requires Trucking Companies to Meet Certain Standards
Large commercial trucks can cause catastrophic damage in an accident. The Federal Motor Carrier Safety Administration (FMCSA) requires trucking companies and truck drivers to abide by certain safety regulations, including:
Hours of Service Regulations – When a driver is behind the wheel of an 80,000-pound semi-truck, fatigued driving can be deadly. Sleepiness can increase reaction time, reduce decision-making skills, and lead to unsafe driving. The FMCSA limits the number of hours that a driver can drive without taking a break to rest. However, some drivers violate these Hours of Service regulations. The driver's electronic logbook is often an important piece of evidence in an injury case involving Hours of Service violations.

Truck Inspections – The FMCSA requires motor carriers to regularly inspect trucks for signs of wear and tear and make any necessary repairs. Regular truck maintenance is crucial to preventing truck crashes. If problems with the truck's brakes, hydraulic system, steering, or other truck components cause or contribute to an accident, the trucking company may be liable for the victims' damages.

Commercial Driver's Licenses – Large commercial trucks including tractor-trailers, tanker trucks, and flatbed trucks are much harder to safely operate than a standard-sized vehicle. Furthermore, the consequences of driving mistakes are often much worse in large trucks. Truck drivers must carry a commercial driver's license (CDL) to prove that they have the skills and knowledge needed to drive a large commercial truck safely. However, negligent hiring practices can allow unqualified truck drivers to operate these massive vehicles.
Contact an El Paso Truck Accident Lawyer
Truck wrecks are sometimes caused by FMCSA noncompliance or other trucking law violations. If you or a loved one were hurt in an accident involving a commercial truck, contact James Kennedy, P.L.L.C. for help. You may be entitled to compensation for your financial damages as well as your non-financial damages like pain and suffering. Call our Sierra Blanca truck crash injury attorneys at 915-544-5200 for a free, confidential case assessment.
Sources:
https://www.fmcsa.dot.gov/regulations/hours-of-service
https://www.fmcsa.dot.gov/safety/passenger-safety/inspection-repair-and-maintenance-motor-carriers-passengers-part-396
https://www.fmcsa.dot.gov/registration/commercial-drivers-license/drivers