6216 Gateway Blvd. East, El Paso, TX 79905
Common Causes of Rollover Car Accidents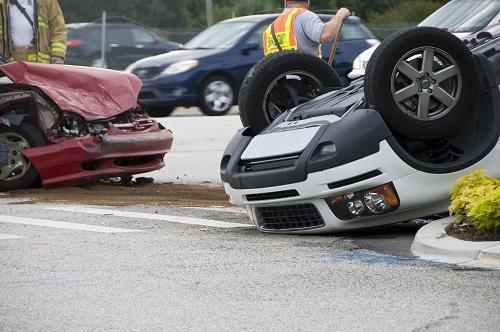 While all types of car accidents have the potential to cause serious and even fatal injuries, rollover car accidents are responsible for a disproportionate share of car crash fatalities. The majority of rollover accidents happen on highways at high speeds and a car may roll laterally or longitudinally, depending on the speed and direction of the accident. Because drivers and passengers are commonly ejected from the car in these accidents, they easily suffer extreme injuries or death upon impact with the ground. Even when passengers' bodies remain in the car, the chance for severe injuries is still high.
When rollover accidents occur, it is important to determine whether another driver, motorcyclist, pedestrian, or other third party was responsible for causing the accident so injured parties can bring a personal injury lawsuit. If you or someone you love was injured or killed in a rollover car accident, a Texas personal injury attorney may be able to help.
Why Do Rollover Accidents Happen?
Cars with a high center of gravity, like SUVs or pickup trucks, are at the greatest risk of rolling over. However, any car that is moving fast enough and which experiences a sudden change in direction can roll over. Such changes in direction can happen for a number of reasons, including side, rear, or front impact with another vehicle. In fact, rollover accidents involving multiple vehicles result in nearly twice the fatality rate as single-vehicle rollover crashes. Other causes of rollover accidents include:
Swerving to avoid debris, animals, vehicles, or pedestrians in the roadway
Turning too quickly
Falling down an embankment or ditch
Driver error, including fatigue, intoxication, aggressive driving, etc.
What Kind of Injuries Are Common in Rollover Car Accidents?
Rollover car accidents typically involve serious or catastrophic injuries. These include, but are not limited to:
Broken and fractured bones
Internal injuries, such as hemorrhaging or punctured organs
Spinal cord, neck, and back injuries, including paralysis
Traumatic head injuries
Amputations
Death
These injuries typically require urgent treatment immediately following the accident and long-term follow-up treatment, sometimes for years to come. Someone injured in a rollover car accident may never be able to return to the life they lived before an accident. Sometimes the loss of a family member means a family's ability to earn money and pay for necessities is jeopardized. In cases like these, it is essential to retain help from an attorney who can help eligible victims recover compensation.
Call a Van Horn, TX Car Accident Injury Lawyer for a Free Consultation
If you or a loved one has been seriously injured in a rollover car accident through no fault of your own, it is essential to get representation from a Texas car accident injury lawyer who can help you obtain compensation for your injuries. At James Kennedy, P.L.L.C., we have the experience and skill to deal with common issues from insurance companies and irresponsible drivers and will conduct a complete investigation to ensure any responsible parties are brought to justice. Call 915-544-5200 today.
Sources:
https://crashstats.nhtsa.dot.gov/Api/Public/ViewPublication/809894
https://www.ncbi.nlm.nih.gov/pmc/articles/PMC4160669/