6216 Gateway Blvd. East, El Paso, TX 79905
3 Legal Considerations in Defective Tire Personal Injury Claims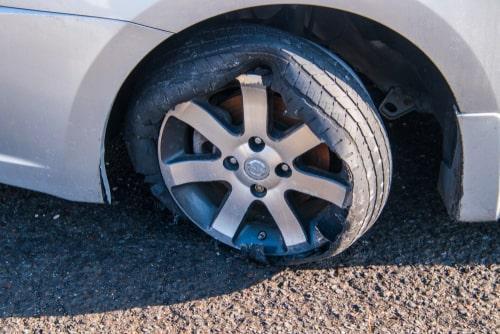 Statistics show that a great number of car accidents are caused by negligent driving. However, some car crashes are the result of faulty vehicle components. Defective tires can be especially dangerous because tread separation and blowouts often cause a driver to lose control of the vehicle. In 2000, Firestone recalled 6.5 million tires because the tires treads were separating from the core, causing severe auto accidents. The defect is linked to almost 300 deaths. If you or a loved one were injured in a car crash caused by a faulty tire, you may be entitled to compensation.
Liability for Tire Defects is Not Always Clear
Defective tires can lead to tire explosion, blowouts, belt separation, tread separation, and other dire consequences. These defects may be caused by a number of different factors. Sometimes, a tire contains a defect because of oversights or mistakes during the design process. Other times, manufacturing errors cause faulty tires to reach consumers. Retailers may knowingly sell tires that contain defects. When a tire company discovers a defect, it may issue a recall. Unfortunately, recalls do not always prevent serious and fatal accidents. Identifying which party or parties are legally responsible for an injury or death caused by a tire defect is often the first step toward recovering compensation.
The Driver of the Vehicle May Be Considered Partially At Fault
Tire defects can cause a driver to lose control of the vehicle. The driver may collide with other motorists, cyclists, or pedestrians. In some tire defect cases, the defendant argues that the driver of the vehicle is partially at fault for the crash. If you were in a crash caused by a defective tire, an experienced product liability lawyer can help you gather evidence to prove the at-fault party's liability for the crash. Fortunately, in Texas, an injured person may still be entitled to partial damages as long as he or she is not considered more than 50 percent responsible for the injury-causing accident.
You Only Have a Certain Amount of Time to File a Lawsuit
Holding a negligent party accountable for a tire defect and recovering financial compensation for damages is often a long, arduous process. If you or a loved one were hurt in a wreck and you suspect that a tire defect is to blame, reach out to a legal professional as soon as possible. Per Texas law, the statute of limitations for product liability lawsuits is just two years. It is important to get started right away.
Contact an El Paso Tire Defect Lawyer
Contact a Sierra Blanca personal injury attorney from James Kennedy, P.L.L.C. for help if you believe that a defective tire could have caused your wreck. Call James Kennedy, P.L.L.C. at 915-544-5200 for a free consultation.
Sources:
https://www.chicagotribune.com/news/ct-xpm-2004-02-06-0402060375-story.html
https://statutes.capitol.texas.gov/Docs/CP/htm/CP.16.htm