6216 Gateway Blvd. East, El Paso, TX 79905
James Kennedy Law Announces Fall 2022 Scholarship Winners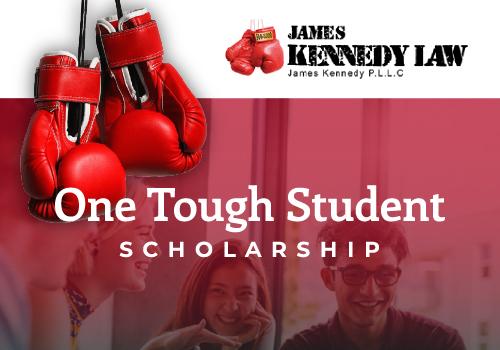 James Kennedy Law is pleased to announce the winners of the One Tough Student Scholarship for the Fall 2022 semester. Each semester, the law firm offers two scholarships to deserving students. The One Tough Scholarship Scholarship is open to students who have been impacted by drunk driving and have joined the fight against drunk driving. Sara Schuster and Matt Johnson have each been awarded a $1,000 scholarship to help further their educations.
James Kennedy Law wants to help students work to eradicate drunk driving. After years of working with victims of drunk driving accidents, the law firm was inspired to create a scholarship that empowers students to take their personal fight against drunk driving to the next level.
Sara Schuster's mother's best friend was killed by a drunk driver when she was 19 years old, inspiring Sara's lifelong commitment to stopping drunk driving. As an RA at Austin College, she strongly discouraged irresponsible drinking and drunk driving at monthly educational events she hosted. Now, she is working on an app that would allow groups of friends to track whose turn it is to act as the designated sober driver.
Matt Johnson, a student athlete at Virginia Tech, is working on a plan to end drunk driving. He advocates for integrating new B.A.C. testing technology into key fobs for all new vehicles. Matt's plan would force all drivers to prove that they are sober before starting a vehicle.
Students whose lives have been affected by a drunk driver may apply for the One Tough Student Scholarship by submitting a 500-word essay explaining how they believe drunk driving can be stopped at a societal level and outlining how they can fight drunk driving in their community. Students may view all eligibility requirements and submit an application at: https://www.epinjury.com/scholarships.
About James Kennedy Law
Attorney James B. Kennedy is licensed to practice law in Texas, New Mexico, Colorado, Arizona, and Nevada. He holds the distinct honor of being certified by The Texas Board of Legal Specialization in Personal Injury Trial Law.
The firm takes on tough personal injury cases, including those stemming from car accidents, slip and fall accidents, work injuries, dangerously defective products, and more, with a particular interest in drunk driving litigation.
Learn more about James Kennedy Law by visiting: https://www.epinjury.com/. To contact the firm and set up a consultation, please call 915-544-5200.